Has holiday shopping got you stressed? Please put that gift card down and slowly back away. Listen, we all know how tempting it is to take the easy way out when you're trying to find a present for someone who's hard to shop for and you're at your wit's end. But take a deep breath, because when you think about it, modern-day shopping is better than it's ever been. We simply have everything we could have ever imagined right at our fingertips! Surely there has to be something out there for your most hard-to-shop-for loved one, right?
All you have to do is have some idea of what they love. Are they obsessed with the smell of coffee? So serious about their skincare routine that it kinda scares you? Do they always talk about their dream of showing off their vegetable-cutting skills on Chopped? Do they randomly talk about the virtues of tuna fish sandwiches?! Well, we can work with that! And yes, we already have gift ideas for them all!
Ahead, you'll find 13 holiday gift ideas that are sure to dazzle even the most jaded giftee. Warning: These gifts are pretty fun, so you might be tempted to pull the ol' "one for you, one for me" trick and pick up some for yourself!
Cappuccino Triple Wick Candle
Sicily Hill
There's one thing about scented candle fans…they can never get enough candles! Impress the serious candle collector on your list with this gigantic cappuccino candle from Sicily Hill. Bonus points if they're also a coffee lover!
Body Oil
Isa Lazo
During wintertime, is there any better gift than making sure your loved ones are moisturized and glowing?! This luxe body oil contains nourishing botanical oils that will ensure all bods that are blessed with it are as smooth as silk, honey.
Rando Bundle
Sunday Scaries
One of the most thoughtful gifts you can give someone in 2021 is something that will help them de-stress. Sunday Scaries (which should get the most relatable brand name award, btw) makes hemp gummies and tinctures that'll help the most high-strung pal relax and chill out.
Lavender Zebra Suit
Friendship Unlimited
The cold, winter season might prevent anyone from being near a pool or beach, but that doesn't mean it isn't a good time to start thinking ahead to sunnier days. Get your BFF-turned-new-mom a cool bathing suit from Friendship Unlimited, which makes them out of recycled consumer water bottles. Even better, she can twin out with her little one in a matching suit!
Bralette in Leopard
Eby
Many of us have reevaluated our own personal relationship with bras these past couple of years. But comfort is always a draw, and this stylish bralette from Eby is a dream for anyone who wants support without feeling uncomfortable and restrained. Plus, say hello to that print!
Dreamer in London Scented Candle
Nomad Noé
Another winner for the olfactory fans, this candle is described as having a fragrance that's reminiscent of a grand old theatre or library of a different time. Feel free to take TWO.
Bella Rosa Rosebud and Freshwater Pearl Necklace
I'MMANY
If your mom is rarely seen without a piece of jewelry, this necklace will make a truly unforgettable gift. The pendant is made from an actual rose, and the chain is freshwater pearl strand. Just gorg.
Chopping Block
Fredericks and Mae
Anyone who loves to cook will adore this heavy-duty yet fashionable chopping block from Fredericks and Mae. It's also brilliantly sustainable, as it's made from the leftovers of solid cutting boards.
Wild Caught Smoked Albacore Tuna
Fishwife
Canned tuna might be somewhat of an odd choice for a holiday gift (depends on who you ask), but Fishwife has changed the game when it comes to all things tinned fish. The foodie in your life will fall in love with savory flavors and the brand's stylish packaging. (Throw in a "Hot Girls Eat Tinned Fish" long-sleeve t-shirt for bonus points!)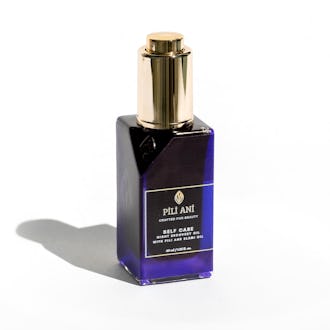 Self-Care Night Recovery Oil
Pili Ani
Help your loved one fend off winter skin dryness with this glorious overnight face oil from Pili Ani. It contains the brand's famous pili and elemi oils (harvested in the Philippines) plus sampaguita, aka Philippine jasmine.